MoEngage.
With Halloween just over, the holiday season has truly begun. It is a special time that's warm, comforting, and familiar. Well-known songs, movies, wrapping paper, tinsel, and twinkling lights – they're all part of a season that brings joy to millions around the world. This year, however, with millions of people around the world adapting to the new normal and businesses adjusting to lockdowns and restrictions, holidays are going to be very different. Despite all the uncertainty, the holiday season's spirit will be stronger than ever as people will want to connect, physically or virtually, and celebrate together.
As holiday traditions and gift-giving looks different this year, marketers need to ensure that they're adding value to consumers' lives and helping them stay connected to who and what they care about the most. Keeping consumers' needs at the core of their planning will help businesses identify and share their unique value during the holidays.
Last year, holiday season sales for retail and e-commerce surpassed the trillion-dollar mark for the first time ever. Although the holiday season this year will be different due to the unprecedented pandemic, businesses can still grow their sales and profit margins with the right strategy in place. So, what are the right strategies for this holiday season given the changes in user behavior, purchasing power, and buying patterns? I have consolidated our findings into five actionable strategies that you can implement while framing your holiday marketing plan.
But before discussing strategies, let's look at the trends that have emerged:
Looming economic uncertainty: According to the World Health Organization, nearly half of the global workforce runs the risk of losing their livelihood due to COVID-19. The looming prospect of unemployment will make consumers more cautious about spending on gifts. They would prefer to save money for the future instead.
Buyers have become more value-conscious: COVID-19 has transformed millennials from swipers to savers. COVID-19 seems to have changed consumers' spending habits. Consumers will be more value-conscious and less impulsive while shopping. Users seem to be quick in embracing frugality.
Reluctance to step out and shop in-store: A holiday season seems incomplete without the images of people lining up outside retail stores as early as midnight to buy their favorite products. However, this year will be completely different, as social distancing norms have led more consumers online.
Shortages due to supply chain delivery issues: The disruption in supply chains due to the pandemic badly impacted the retail industry. In April, the United States' retail sales plunged by 16.4% due to supply chain issues. Problems such as labor shortages, transportation restrictions, and border closures have added stress on the retail supply chain and led to artificial shortages.
The relevance of curbside pick-ups: With contactless delivery given priority, curbside pickups will be huge. Blackfriday.com survey suggests 50% of respondents in the US are likely to use curbside pick more than in 2019.
These trends will further seep into the consumer psyche and impact the shopping trends this festive season.
Here are five strategies to help you deal with the changes brought about in the user preferences and priorities:
Attract users by setting up in-app offer zones
Showcase the exciting offers and amazing deals you're providing during the holiday season by setting up an offer zone inside your app. You can engage your customers with relevant offers and promotions, especially those who opted out of push notifications, emails, or SMSes!
Using MoEngage Cards, you can persistently communicate with your customers by sending personalized offers, recommendations, and more straight to the customers' inbox or news feed within your app, without interrupting their browsing behaviour. What's even better is unlike in-app or push notifications that can be dismissed, Cards ensure your messages stick around in a non-pushy way so that your customers can interact any time they'd like.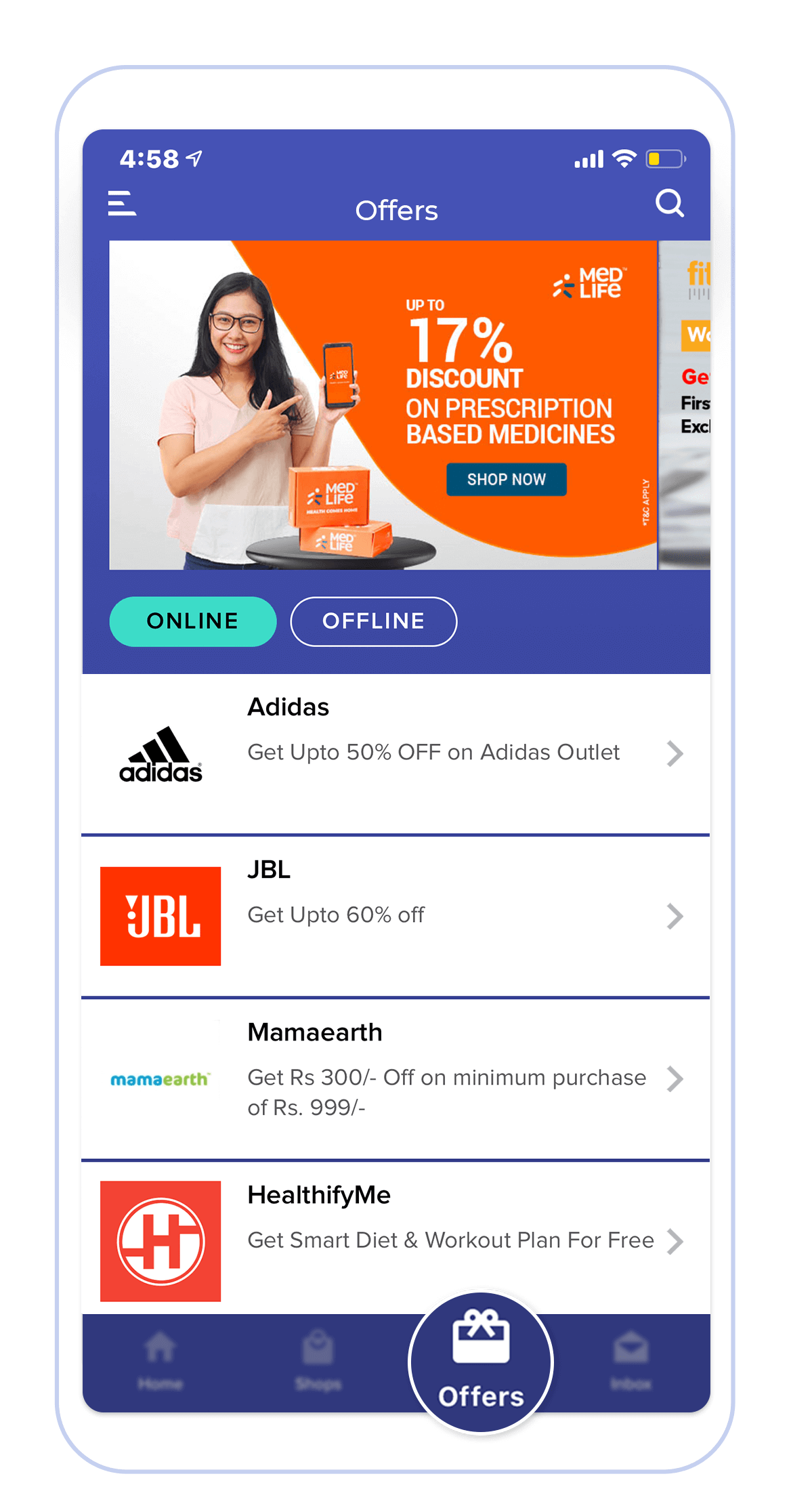 Set up 'offer zone' inside your app
Understand user journey, identify drop-offs, and target users better
Visualize the paths your customers take while navigating your app or website. Find out the best paths, improve user experience, increase conversion, and reduce churn this Holiday Season.
User Paths functionality of MoEngage uses Sankey Analysis to identify the most popular paths users take and any bottlenecks or friction points in the user experience, which can then be eliminated.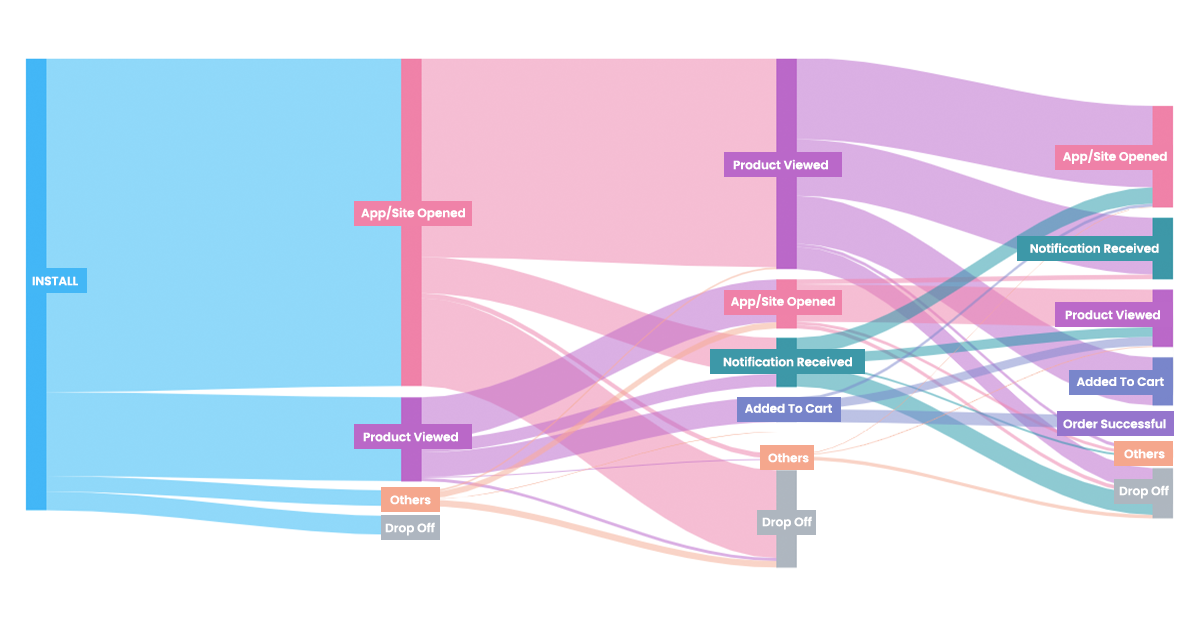 User Paths help you understand exactly why customers churn and improve conversion.
Reach users with creative, intuitive & personalized push notifications
The average user receives over 65 notifications in a day – which translates to roughly about one notification every 15 minutes during the user's waking hours! This number will only go up during the holiday season, with all brands vying for the user's mindshare. This holiday season, you have to up your game to win the battle of notifications.
Don't let your notifications get lost in the notification tray. Stand out with rich & personalized notifications that are hard to miss. Active, adorable, adventurous, whatever your brand style, extend it to your notifications. Craft rich-looking notifications using colors & rich text that instantly connect with users.
Be it brand communication or exciting holiday offers, make notifications non-intrusive with thin banners to improve user engagement.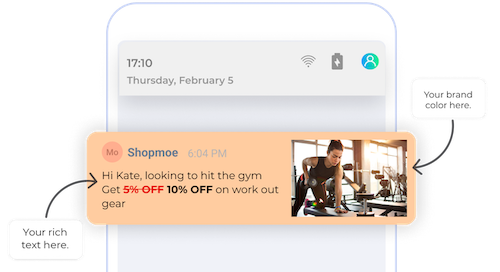 Rich, intuitive, and personalized push notifications using MoEngage Push Templates
Better target users by leveraging predictive segmentation
If you send offer related communication to dissatisfied users, chances are they'll churn. Therefore, it is essential to know which segment of your users are at risk of churn. Using predictive algorithms, you can segment customers based on recency [R], frequency [F], and monetary [M] value of interactions with your brand. You can either use R, F, and M parameters or any combination of RF, RM, and FM to accurately group your customers into 'churn risk,' 'loyal", and 'price-sensitive' to run appropriate campaigns.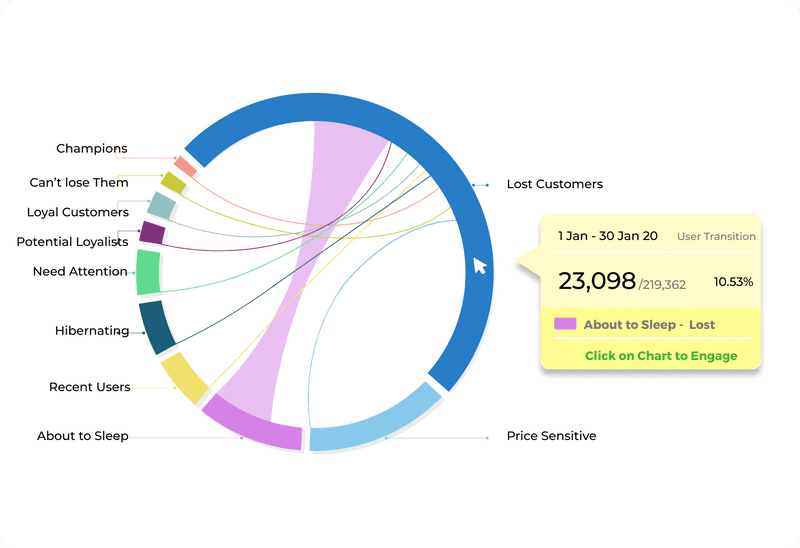 Using RFM analysis, Identify how many customers have moved across segments
Leverage geofencing to target users where they are
During the holiday season, take your marketing initiatives to the next level by geofencing potential customers within a specific geographic radius. This is particularly effective while targeting users who might be traveling home or elsewhere during the holiday season. Create a simple geofence to surround your store's physical location and communicate location-triggered deals via push notifications. For example, sending promotions before the start of the holidays and showcasing limited time-offers.
You can also use geofencing to target loyal shoppers, such as the store's highest-valued visitors, and drive repeat purchases. Craft unique and personalized messages to drive cross-sell or up-sell opportunities.
Another way to use geofencing is to target consumers with buy-one-get-one deals on products similar to those they might have browsed at a competitor. You can also create custom audience segments based on competitor locations and frequency and time of consumer visits. Consumer data such as demographic information, likes, and dislikes can be collected and stored to personalize offers throughout the holiday season and send relevant communication based on location.
Bonus: Test ads and keeping multiple ad formats ready!
Make sure to test each of the different formats and sizes of creatives for all the various channels you're using. While creatives in the popular format get the majority of the impressions, they're also highly competitive resulting in high priced CPM/CPI. Using creatives in different formats, including the least popular sizes, can get you additional exposure at a much lower price.
For more actionable strategies, expert insights, and use cases from top global brands, download the Holiday Marketing Guide 2020
Author bio:
Rajarshi creates insightful content for the B2B/B2C marketing community by the day, moonlights as a pop culture aficionado by night. Published author with global and national publications like e27, TechInAsia, Yourstory, Tripoto, and Huffington Post. Can be found binging on Sci-Fi and High Fantasy when creating high-value content.
@2021 Gummicube All rights Reserved