Understanding the Influence of COVID-19 on Consumers and Online Businesses
June 3rd, 2020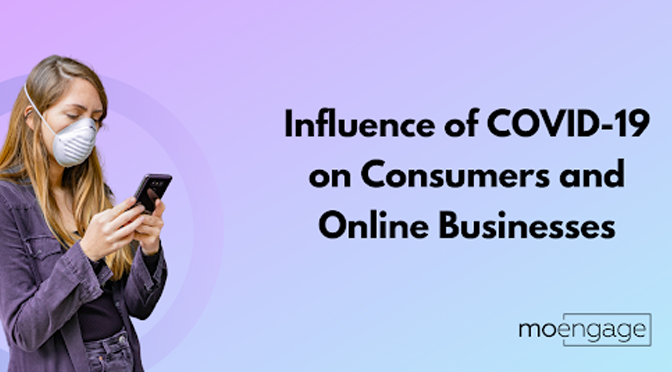 The world is preparing for the new normal. At MoEngage, we continue to monitor the impact of COVID-19 for industries such as Retail, Real-Estate, Travel & Hospitality, Media & Entertainment, Video Conferencing, Social Media, etc.
We've analyzed data trends and consumer behavior of more than 1.5 billion users across 5 different geographies and 12 different industry verticals. Download the complete report with these findings, here!
Mark Zandi, the chief economist at Moody's Analytics, calls the current situation an economic Tsunami. The IMF has declared that the world is heading to a global recession. 
However, not everything is bleak for businesses. Zoom, the video conferencing app, for example, had reported a whopping 1900% spike in usage in three months, while Skype and Microsoft Teams have reported an increase of 70% and 110% respectively. 
You might contend that the work from home policy in most countries is responsible for this spike. 
You may wonder how an e-commerce app or a food delivery app ensures user engagement during and after the lockdown? How can they thrive during this slowdown?
In this article we've answered such questions along with key findings and examples of brands that have successfully navigated through this pandemic in this article. We've included:
The COVID-19 Impact Quadrant for Mobile apps

The changing consumer behavior and what you can do about it  

Lessons from brands getting user engagement right 
The COVID-19 Impact Quadrant for Mobile Apps
To gain a high-level overview of the impact of the pandemic on various consumer apps, we published the COVID-19 Impact Quadrant. This is a plot of active users mapped with the number of downloads for various consumer apps. Here, the industries are divided into 4 quadrants: 
Source: MoEngage report
Explosion: These are industries that show huge demand both in terms of new user
downloads and active users. Apps for verticals such as Video Chat apps, Media and Entertainment worldwide, and the Online Shopping, Healthcare apps from the U.S. fall into this quadrant.
Growth: These industries have witnessed a sudden rise in inactive users but not in downloads. Apps such as Social Media and Food Delivery in the US can be classified into this quadrant.

Slowdown: These industries have witnessed a decline in both active users and new app downloads. Industries that fall under this quadrant are - Travel & Hospitality, and Mobility apps.

Emergence: Healthcare apps in Southeast Asia fall under this quadrant. Emergence implies industries that have seen significant growth in their new user downloads but not their active users.
Users are coming to terms with the changing dynamics of inter-connectivity and the way a day in their lives look right now. This also means that there has been a huge shift in their buying behavior. From purchasing luxury goods to essentials, from offline to online shopping - there's much that's changing.
For example, our study shows that online shopping apps have seen a steep rise in both new and daily active users in the United States, particularly for essential services like groceries, milk and medicine. 
Source: MoEngage report
Another interesting industry is online food delivery. While the user activity in the United States and Southeast Asian countries have seen increased activity on food delivery apps, we've seen the opposite trends for India. 
Source: MoEngage report
Consumers respond to crises in different ways and to truly understand the impact of the pandemic, it is important to overlay the consumer mindset to the behavior data for your business. 
Has the Consumer Behavior Really Changed?
As consumers navigate between working remote full-time to living in isolation, their behavior has changed drastically in the last few months. A report by EY shows that 78% of people are shopping less, and 64% are buying only essential items.
The report further states that the trend may not change soon, even after the pandemic ends. 45% of the consumers say that there will be a permanent change in the way they shop. 
Undeniably, the pandemic has caused some major shifts in consumer behavior whether it is the apps they're using, or the way they choose to shop, or even the content they consume. We've grouped these changes into three broad categories:
The consumer mindset: The outbreak has pushed consumers out of their normal and has forced them to adopt new routines and habits. As a result, consumers are aware of their health and fitness, mindful about consumption, and strive to limit waste.       

Purchase capability: The economic slowdown and the potential threat to their employment status has led consumers to re-evaluate their spending habits. So while the spends on groceries and essentials might still not change, a significant size of consumers are likely to spend less on clothes, leisure, and luxury goods.  

Digitally strong: The gap between online-offline shopping shrinking over the last couple of years and the current pandemic situation has only accelerated that transformation. The ease of online shopping along with the fear of infection at physical stores indicate that digital adoption will continue to grow over 2020.    
To summarize, consumers today are going through uncertainty and would prefer to over-prepare rather than under-prepare. Also, they now focus more on wellness and staying healthy, while also being cautious about their expenses. 
Tips to Improve Engagement on Your Mobile Apps
Show you care: Your users are understandably worried about the current pandemic. Go beyond the usual business and show your users that you care for them. It's a great way to build trust during the current slump.

Live up to expectations:

Users install your app with certain expectations of fulfilling their needs. Ensure that you live up to it. Right from the first instance, prove that your app is capable of living up to the expectations of the user. For example, one of the areas to begin with is your

App Store Optimization

(ASO) strategy. Align your store listing with what is happening around COVID to build relevance around high-quality users who are looking for apps to help them during this time.

Build customer loyalty: Customers need to be reminded to interact with your app frequently. Don't stop your interaction after delivering their order. Follow up with a feedback survey, thank you e-mails, and push notifications to build customer loyalty. Remember, a slight increase in customer loyalty can generate a lifetime profit of 25% to 95% per customer.
Brands Winning With Engagement During the Pandemic
The number of people considered to be gathered safely at a single location has slipped from thousands to hundreds to handfuls. As the world stays in lockdown, travel and other non-essential businesses have had to close their operations. Consumers worldwide are trying to adapt to these uncertain times, and so are brands. 
Here's some examples of how some brands have continued to engage and stay relevant to their audience even though their core business has taken a hit.
1.Oyo: OYO Hotels and Homes is one of the world's leading chain of hotels and homes. Naturally, with travel restrictions all over the world, Oyo's app engagement should have spiraled downwards - but that's not what happened. Through the last two months, the DAUs on Oyo's app have dropped just by 2%. How did they achieve that?
Oyo puts out COVID-19 updates through a newsletter that's highly informative and shares heartwarming stories from the community, safety tips, and hygienic practices. They also have a gaming zone where their app users return for Coronavirus themed games. 
2.DoorDash: DoorDash, an on-demand prepared food delivery service app in the U.S. and Canada, has waived off the delivery fee during the pandemic. Small steps like this have helped them grow their overall downloads by 11.9% and DAU (Daily Active Users) by 4% over the last couple of months.
3.Jimmy Brings: Jimmy Brings is an alcohol delivery service across Australia that promises the delivery of beer, wine and spirits within just 30 minutes. However, during the lockdown, the brand wanted to be more helpful. They offered to deliver toilet rolls to their users within 30 minutes to consumers in Sydney. They encouraged users to stay at home and shop for wine, beer, spirits, snacks and even panadol using the Jimmy Brings app or website.
Source: News.com.au
While these are some examples to show how brands can will consumers over during a crisis, your response and engagement strategy might differ based on your industry and audience. We hope this article has helped you understand the key shifts in your users' mindset and will help you carve out a unique engagement strategy for your app users and serve them in the best ways you can. 
About the Author
Akshatha Kamath, Head of Content Marketing, MoEngage
Akshatha Kamath leads content marketing at MoEngage, the preferred customer engagement partner for Fortune 500 brands in the mobile-first world. She is a content marketing leader with close to 12 years of experience in writing, strategizing, and managing content for various organizations. Akshatha also volunteers with AMA-SF as a writer.